Paul McAlinden
Paul McAlinden is a Replenishment Buying Team Leader
Replenishment Buying Team Leader
Henderson Wholesale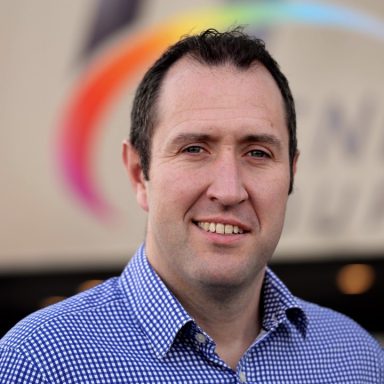 Describe what a typical day looks like for you.
My typical day looks like:
Ensuring my team have the right products in the right place at the right time. As replenishment Manager I am KPI focused on daily and weekly inbound and outbound Service, maximising sales, improving efficiencies and supporting the business profit line.
I have a close working relationship with Trading, Range Planning, and Depot Operations. Implementing the promotional plan and driving sales while being operational focused to support the changing dynamics of the business to service our customers in the most cost effective way and improve availability.
Meeting suppliers to build strategic relationships with a view of driving our business forward through service and lead time improvements and reacting to changes in customer demand by managing promotional volumes, weather challenges, Events, and seasonal demand planning collaboratively.
Who and what are you responsible for?
I am directly responsible for all stock ordering for the ambient, frozen and tobacco categories. I lead a team team of 6 ambient replenishment buyers who work with supply base to plan, forecast and delivery volume to the business.
We are responsible for service to our customers ensuring we have the right product at the right time including implementation and monitoring of the promotional and range plans, including communication about product supply issues.
We plan and forecast stock to maximise sales and availability for the business, taking into consideration the changing demand within seasonal ranges, weather changes, events, and the changing needs of our customers.
Identifying opportunities to delivery efficiencies to the operation through buying better, supplier negotiations and managing the product life cycle.
How does your team fit in to the Henderson Group?
Managing the supply chain replenishment function, we are involved in most aspects within the business from dealing with supplier, working with depot operations to drive efficiencies, understanding the marketing plan to drive sales and working with the trading teams to deliver the range and promotional plan. At the centre of all our decisions is the customer where we strive to ensure great availability.
What are the best bits about your job?
Like all rolls within FMCG its fast moving and dynamic and no day is the same which means you are always facing fresh challenges.
The trading, replenishment and depot operations have fantastic knowledge and skill set. This puts me in a position where I  can learn from other people's experiences furthermore  it provides me with a  good support network.
I enjoy the interaction with the supply base and getting an understanding of how their operations work and ensuring we are getting the best service from them to deliver for our customers.
What are the best bits about your company (Henderson Wholesale)?
It's a great local company that is investing both in its people and its operation, there is a clear strategy for growth and the business is always looking to develop.
I have found that the pace of change and the diversity within the whole company makes it very exciting for everyone involved.
Not only is Henderson's a local employer but through its product sourcing is having a positive impacting in the wider FMCG business  and supporting the wider economy.
What is the best thing about your team?
Great experience within the team and not afraid to try new thing that will support the business. There is a great work ethic and the team are always striving to learn and develop.
There is a drive from the team to ensure we are delivering for our customer and willing to work with all parts of the business to support the operation.
We have an open and honest discussions to ensure we are challenging each other on the business KPI's.
What attracted you to the Henderson Group?
It's the biggest retailer in NI with strong local ethos, the vision of the business and growth plans attracted me to Join. I feel Henderson's was a natural progression for my career within the food industry and with its focus on people offers clear opportunity for both development and progression.
When not working, what can you be found doing?
When not with my family much of my spare time is taken up volunteering at the local football club through coaching and fundraising. I do enjoy going for a run which is good to clear the head and keeps me a bit healthy.