Jonathan McKee
Jonathan McKee is a Sales Project Manager with Henderson Wholesale.
Regional Sales Manager (Store Projects)
Henderson Wholesale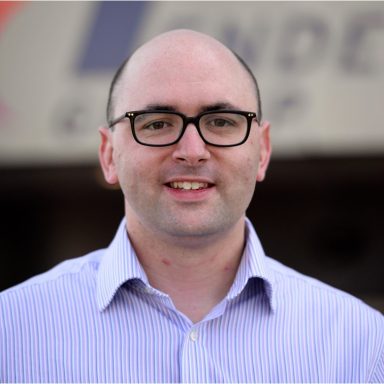 Describe what a typical day at work looks like for you
In the projects role there is no such thing as a typical day, the role is so incredibly varied that every day is different.  Unlike my colleagues in the sales team including the Business Development Managers, I am not designated to an area or cluster of stores, I am one of the support roles that covers all of our independent retail estate all over the country.
So if I don't have a typical day, what do my days include?  My days can include, store management, from time to time I will manage a store for a short period while we transfer the store to an Independent retailer, maximising sales and margin.  I complete new store inductions, supporting new retailers to our group, this can include new store openings or retailers who have chosen to re-brand with Henderson Wholesale Ltd.
I am also involved in up-skilling and developing our sales team through presentations and workshops, up-skilling teams in store, this includes financial controls, stock control, stock replenishment, merchandising principles, sales and marketing tools, stocktaking, promotional planning & implementation and twice a year I facilitate the ambient masterclass training session on behalf of our Henderson Academy.    I am called upon to conduct in store investigations, identifying sources of loss and working with the in-store teams to put in place the controls to prevent the loss reoccurring.
The role takes me all over the country and I get to spend time in different stores with a variety of retailers and Henderson's team.
How does your team fit into the Henderson Group?
The projects role is kind of unique, I have a broad spectrum of involvement in areas of the business, I provide support for our retailers but at times I also support our internal team.   I will have involvement in training and development, store launches and store management so I try and ensure that our store openings go as smoothly as possible.
What are the best bits about your job?
The best bits about my job are the people and the variety, this job will never be boring being in a different place, a different situation with different people and a new challenge every day.  The different people you encounter all around the country and the interaction with members of my team is great, we are a very sociable bunch.
Best bits about your company (Henderson Wholesale)?
I started with Henderson Retail as a part-time customer advisor, I progressed thought the company to store manager and from store manager to store projects manager within Henderson Wholesale, this is a company that offers great opportunities for personal development.  Within my current role I have been give lots of opportunities to attend training and am being exposed to new situations to personally develop further.
What is the best thing about your team?
We have a great mix of individuals in our team, some real characters.  A very dedicated, experienced and professional bunch but a lot of fun.
What attracted you to Henderson Group?
I was attracted to Henderson's originally for a number of reasons, on a practical note the store was local but when I read the application I researched the company website, I was attracted to the company being local, family owned and being so large it offered job security.  I also felt that in such a large company there would be opportunities for development, this felt like a company that could offer a career not just a job.
When not working, what can you be found doing?
When not working I can be found with my family, Wife Julie -Anne and Son Nathan (8 Years old), usually in a park or out for a walk.  I usually have a camera in my hand, I am a keen photographer.
In the lazier moments (unfortunately more lazy moments than inspired energetic moments) I will most likely be found in front of the TV, or listening to some music (vinyl of course).